Datum: Samstag, 28. September
Uhrzeit: 18:00 Uhr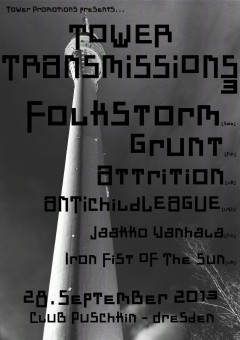 Line-up:
FOLKSTORM(swe)
GRUNT(fin)
ATTRITION(uk)
ANTI-CHILDLEAGUE(uk)
JAAKKO VANHALA(fin)
IRON FIST OF THE SUN(uk)
DJ's:
DJ ROBOTKA(a)
DJ WIKTOR SKOK(pl)
Merchandise:
Klanggalerie(Wien)
Ironflame(Berlin)
L.White Records(Berlin)
Poson cabinet Press(Leipzig)
FOLKSTORM(swe)

In the late seventies Björkk became aware of music recorded by bands such as Kiss. After this he began buying music on a regular basis, staying true to the metal scene throughout his early teens. His taste and thoughts changed when he heard the German band Kraftwerk with their electronic sound and cold drum rhythms. When he was 16 he bought a Roland SH-101 synthesiser and began working on music inspired by bands such as DAF and Front 242. This led to Björkk recording with friends producing what would later be the band Pouppee Fabrikk.
In 1988 Nordvargr became part of the influential black industrial combo Maschinenzimmer 412 (later Mz.412). The first album, Malfeitor, was released in 1989 on the Cold Meat Industry label. This first album was limited to seven hundred copies. Since then, he has systematically explored the broad field of post-industrial music scene, releasing solo records covering noise, power electronics, militant, dark ambient, drone, blackened noise, experimental and avant garde. In parallel to his band activities, he has pursued a solo career with a vast amount of record releases. He is widely considered one of the most influential and productive post-industrial artists ever. Some of his projects include MZ.412, All Hail The Transcending Ghost, Toroidh, Pouppee Fabrikk, Vargr, Goatvargr among others. 
He has collaborated with artists such as Merzbow, Beyond Sensory Experience, Drakh, Kenji Siratori, Arditi and many more.
Nordvargr's early work was characterised by The Wire as "cultish Dark Ambient", but became more experimental. He has made industrial music (Mz.412), and ambient black metal (Vargr).
FOLKSTORM started out as a martial industrial project of Henrik Nordvargr Björkk in 1999. Over the years it has progressed into a more refined beast, mixing punkish rhythmic noise with aggressive vocals. Folkstorms newest album "Folkpop" will be released this year on Old Europa Cafe.
FOLKSTORM will perform exclusively at TOWER TRANSMISSIONS III.
ATTRITION(uk)
Invocation – Live at Tower Transmissions III
A soundtrack for your dreams and nightmares….
30 years since the groundbreaking dark ambient album "This Death House", ATTRITION's Martin Bowes has combined forces with his wife Kerri on their full length movie score, originally composed for the horror film G.H.O.S.T from cult U.S. film company Mutantville and released on CD in 2012 on Russian label infinite Fog.
An album of disquiet, of dark shifting atmospheres and main themes on piano, vocals and strings… The performance will be accompanied by a visuals from the albums official photographer Holger Karas of Seventh Sin.
An invocation in nine parts.
This will be the only live Invocation. In its entirety. This year. or ever.
www.attrition.co.uk
www.facebook.com/attrition
http://attritionuk.bandcamp.com/
www.youtube.com/user/attrition
https://twitter.com/#!/attritionuk
www.last.fm/music/Attrition
ANITchildLEAGUE(uk)
ANTIchildLEAGUE – Experimental – Power Electronics – Noise – Dark Ambient – Ritual.
The project of Gaya Donadio who is also known for promotion of underground music live events and mail-order in London under the banner of Hinoeuma the Malediction/Confession/Hagshadow. Currently working on a new release – "The Son and the Holy Ghost". Some new material will be performed.
JAAKKO VANHALA(fin)
From Oulu, Northern Finland. Electronic music since 1995. Dynamic, detailed, energetic and ecstatic noise onslaughts based on acoustic sound sources, field recordings, analogue electronics, and tape manipulations. Previously associated with more ambient oriented projects. Performances in Finland, Russia, Lithuania, Japan, England, Belgium, Norway, Denmark and Sweden. The live set in 2013 consists of a mixture of hands-on analogue electronics and intense abuse of physical objects.
IRON FIST OF THE SUN(uk)
Hailing originally from Druids Heath in Birmingham, Iron Fist of the Sun (IFOTS) is the current sonic project of extreme noise protagonist Lee Howard. Live power electronics, experimental sonic terrorism and Black Metal are all encompassed in an unforgiving soundtrack to your most brutal nightmares… just don't dare call it "Art Noise"
Personal obsessions skewed by drug use, codes of behaviour observed by a misanthropic mind. Bitter and cold. Nihilistic and scornful. Elitist and Pure. Birmingham Nihilism!
IFOTS has benn releasing experimental power electronics and sharp, cold industrial via some of Europe's most essential underground labels for many years. IFOTS will be bringing his distinctive approach, combining power electronics with electro-acoustic compositions, to his debut German show at Tower Transmissions III.
++++++Tickets++++++
TOWER TRANSMISSIONS III: Limitierte Tickets zum Preis von 28€ sind ab jetzt erhältlich.
Achtung gilt nur bis 31 Juli danach Normalpreis: 32€
Email towerpromotions@gothic.ie mit Name, Ticketanzahl und Bezahlmethode: Paypal oder Überweisung(alle Extrakosten trägt der Käufer)