Datum: Samstag, 30. Juni
Uhrzeit: 12:00 - 06:00 Uhr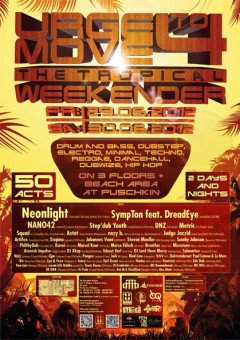 Party an 2 Tagen
auf 3 Floors + Beach Area
30 Stunden Party
50 Acts
Drum and Bass, Dubstep, Future Bass, Brostep, Moombahtone, Electro, Minimal, House, Techno, Reggae, Dancehall, Dubwize, Jungle und Hip Hop
Freitag, 29. Juni 2012 16:00 – 06:00 Uhr | Samstag, 30. Juni 2012 12:00 – 06:00 Uhr
URGE TO MOVE 4 – The Tropical Weekender
Alle guten Dinge sind doch 4!
Zum mittlerweile 4 Mal öffnet die Partyreihe URGE TO MOVE am 29.06 ab 16:00 Uhr die Pforten des Puschkin Clubs, um dich zu einem tropischen Fest zu entführen!
Nur diesmal bedeutet es ein Sommer-Wochenende lang Festival Stimmung auf 4 Floors, sowohl innen, als auch außen, mit 50 Acts aus den verschiedensten Musikgenres.
Und du bist mitten drin!
Tagsüber organisieren wir für Euch einige Aktivitäten, wie z.B. ein Volleyball- oder Tischtennisturnier. Wer sich allerdings überhaupt nicht bewegen mag, der genießt einfach im Liegestuhl die Sonne zu chilligen Vibes der Outdoor-DJs, mit gekühlten Drinks und leckerem Gegrillten.
Und wenn dann abends die einzelnen Floors nach und nach zum Tanz laden, gibt es kein Halten mehr. Ob du nun zu DnB abzappeln magst, oder dein Haupt gerne zu Dubstep oder Electro schwingst, oder einfach nur im Rundlauf die Floors wechselst, sei dir überlassen. Möglich wäre es!
Und so heißt es bis in die frühen Morgenstunden des 01.07 feiern bis der Arzt kommt!
'URGE TO MOVE 4 – The Tropical Weekender' freut sich auf dich!
Floors:
Indoor: 3 Floors
Mainfloor: Drum and Bass
Sidefloor: Dubstep / Dubstep / Future Bass / Brostep / Moombahtone
Redfloor: Electro / Minimal / Techno / House
Outdoor:
Sun Openair-Area: Dubstep / Drum and Bass / Reggae / Dancehall / Dubwize / Jungle / Hip Hop
Aktivitäten: Volleyballturnier, Tischtennisturnier, Torwand, Tischkicker
(Anmeldung unter: www.urge-to-move.de)
DJ(s)
Drum and Bass:
Neonlight (Lifted Music / Bad Taste / Eatbrain / Trust in Music)
SympTon feat. DreadEye (jamkabOOm) LIVE DNB
NANO42 (Fraktion42 / n:dorphin Club / Chemnitz)
Metric (CTC / Skankin´Beatz)
Squad (CTC / Hooverbass Rec./ Soundbully Audio)
Astat (Stroga Resident / Wikkedsoundz)
Judge Jazzid (Krasse Toene / EXES / TKO / UTM-Family)
Artifex (Panoptikum Crew / TKN)
PhilthyDub (Crozzväter / GSC)
Breather (Sonic Food)
Acoustic Impulse (Stroga Resident)
Jork (RB Cyclops)
No!z (Substance D Crew / UTM-Family)
Cipe (Substance D Crew / UTM-Family)
Pangea (Substance D Crew)
Tawis Karon (UTM-Family)
DJ Freidrehn (dffb-crew / UTM-Family)
MC Remmidemmi (dffb-crew / UTM-Family)
MC NOS (dffb-crew / UTM-Family)
DR RMX (dffb-crew / UTM-Family)
Dubstep / Future Bass / Brostep / Moombahtone:
Step'dub Youth (StepDubYouth.de / UTM-Family)
DNZ (Fat Fenders)
eazy b. (Bässe in die Fresse rec. / Basslinebomber rec.)
Stepma (palmdubz / UTM-Family)
Microtone (Bässe in die Fresse / SmallClub Rec.)
Earl (Tectro Unity)
Submatixe (Substance D Crew)
DJ Lord Have Mercy (Dub-Experience)
zw:an b2b Dubiko (squelah409)
Dubstep / Reggae / Dancehall / Dubwize / Jungle / Hip Hop:
Scooby Johnson (Bless-a-Fire / UTM)
Ric (Bless-a-Fire / UTM-Family)
Ivory (Roots and Culture)
Earl Great (Roots and Culture)
Hanko (Roots and Culture)
DJ Xkap (Soul Box / Phalluskinder)
Educut
Rootster (UTM-Family / R&S)
Ede Dub (UTM-Family / R&S)
DJ Pedo (Financial Rhymes / UTM-Family)
Electro / Minimal / Techno / House:
Johannes Voon (MUNDKRAFT)
Steven Moeller (KALO Recordings Berlin)
Ried-Low (Independent)
VΛV (DIY)
Kareé (5th Family)
Marcel Koar (5th Family)
Marco Fölsch (5th Family)
Elektrotolerant
Paul Catena & Lé Marc
Lyn & Foxn (Provokation E)
Finn-Luis (Werktags / UTM-Family)
Rob M & Disti(ll)ed (Klanglabor Süd-Ost)
Alex Mode (Vinylfreunde / UTM-Family)