Datum: Samstag, 06. Juli
Uhrzeit: 12:00 - 07:00 Uhr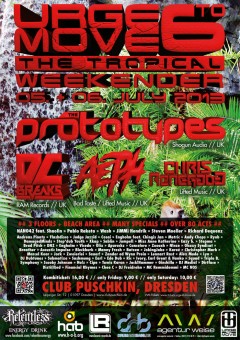 Party an 2 Tagen über 30 Stunden Party
auf 3 Floors + Openair Beach Area
MAINACTS: **THE PROTOTYPES + DC BREAKS + AEPH + CHRIS RENEGADE + Wash + NANO42 feat. Shaolin + Pablo Raketa + JiMMi Hendrik**

über 80 ACTS aus den verschiedensten Musikgenres
Drum and Bass, Dubstep, Future Bass, Brostep, Moombahtone, Electro, Minimal, House, Techno, Reggae, Dancehall, Dubwize, Jungle, Trap und Hip Hop
Endlich ist der Sommer zurück und damit auch THE TROPICAL WEEKENDER in seiner 2. Auflage. Das bedeutet: ein Sommer-Wochenende lang Festival Stimmung auf 4 Floors, sowohl innen, als auch außen, mit über 80 Acts aus den verschiedensten Musikgenres, garniert mit "4 internationalen Mainacts", die sich Großteils zum erstenmal in Dresden einfinden:
THE PROTOTYPES (Shogun Audio // UK)
https://www.facebook.com/THEPROTOTYPES
DC BREAKS (RAM Records / Frequency / Viper // UK)
https://www.facebook.com/DCBreaks
AEPH (Lifted Music / Bad Taste Recordings / Breed 12 Inches // UK)
https://www.facebook.com/Aephmusic
CHRIS RENEGADE (Lifted Music / Renegade Hardware // UK)
https://www.facebook.com/chrisrengde
Und du bist mitten drin, statt nur dabei….
Tagsüber organisieren wir für Euch einige Aktivitäten, wie z.B. ein Volleyball- oder Tischtennisturnier.
Wer sich allerdings überhaupt nicht bewegen mag, der genießt einfach im Liegestuhl die Sonne zu chilligen Vibes der Outdoor-DJs, mit gekühlten Drinks und leckerem Gegrillten.
Und wenn dann abends die einzelnen Floors nach und nach zum Tanz laden, gibt es kein Halten mehr. Ob du nun zu DnB abzappeln magst, oder dein Haupt gerne zu Dubstep oder House oder Techno schwingst, oder einfach nur im Rundlauf die Floors wechselst, sei dir überlassen. Möglich wäre es!
Und so heißt es bis in die frühen Morgenstunden des 07.07. tropisch abfeiern bis der Arzt kommt.
'URGE TO MOVE 6 – The Tropical Weekender' sowie die gesamte UTM-Family freut sich auf dich!
Line up:
Drum and Bass – Mainfloor:
THE PROTOTYPES (Shogun Audio // UK)
DC BREAKS (RAM Records / Frequency / Viper // UK)
AEPH (Lifted Music / Bad Taste Recordings / Breed 12 Inches // UK)
CHRIS RENEGADE (Lifted Music / Renegade Hardware // UK)
NANO42 feat. Shaolin (Fraktion42 / n:dorphin Club // Chemnitz)
Richard Dequenz (Invisible Sound / EXES / TKO // Leipzig)
Judge Jazzid (Krasse Toene / EXES / TKO / UTM-Family)
Cosai (Spur1-Music / BBE)
Engholm feat. Chingis Jan (Signal Error / Mischwerk)
Metric (CTC / Skankin´Beatz / UTM-Family)
Squad (CTC / Katana Audio / Hooverbass Rec. / Soundbully Audio)
Andy Chops (CTC / Skankin´Beatz / UTM-Family)
Ryob aka PhilthyDub & Puker (Crozzväter / GSC / UTM-Family)
Olix (SONiCFOOD)
Apurockz (SONiCFOOD)
DamagedMinds (Crach Records / UTM-Family)
Scooby Johnson (Indutiarum Sound / UTM-Family)
No!z (Substance D Crew / UTM-Family / Palmdubz)
Cipe (Substance D Crew / UTM-Family / Palmdubz)
Jork (RB Cyclops / UTM-Family)
Tawis Karon (UTM-Family)
DJ Freidrehn (dffb-crew / UTM-Family)
MC Remmidemmi (dffb-crew / UTM-Family)
MC NOS (dffb-crew / UTM-Family)
DR RMX (dffb-crew / UTM-Family)
Dubstep / Trap / Future Bass / Brostep / Moombahtone – Sidefloor:
Pablo Raketa (Bassraketen / Freshguide / http://fb.com/pabloraketa // Leipzig)
Wash (Kongkretebass / Robox-Neotech / Section 8 // Hong Kong)
Step'dub Youth (FockDubYouth / UTM-Family)
Vicedo (lunatic monkey records / no freak show)
Jampell b2b Miss Anne Katherine (Cilistic Inc.)
eazy b. (Bässe in die Fresse rec. / Basslinebomber rec.)
Stepma (palmdubz / UTM-Family)
Brad Pitch (Trap The System / DD Funky)
DNZ (Funky Monkey / Fat Fenders)
Engholm (Signal Error/ Mischwerk)
Ryob aka PhilthyDub+Puker (Crozzväter / GSC / UTM-Family)
Sashmung (stvw-booking)
Earl (Tectro Unity)
DJ Dubtunes (UTM-Family / palmdubz)
Submatixe (UTM-Family)
Ric (SubSound Rockaz / UTM-Family / palmdubz)
N!nze (UTM-Family / R&S)
Ede Dub (UTM-Family / R&S)
DJ Medial (Revolution-V-Records)
Chee C (Future Habits)
House / Minimal / Techno / Electro – Redfloor:
JiMMi Hendrik (Freude am Tanzen / Club Zooma / Ascending Branch // Leipzig)
Steven Moeller (Big Buddah Berlin / Nostromo Club// Berlin)
Zooash (Vocabula / Musikraum E // Leipzig)
Andreas Pionty (5th Family)
Cancelore (Freche Früchte / Deepvibes Radio / KIKO Rec.)
Flashdisco (Vocabula / Plattenpussy rec.)
Kareé (5th Family)
Bleckburk (Rootwood / 5th Family)
Marcel Koar (5th Family)
Zweierlei (Minimalradio DD / Muzzaik)
Christopher Mark (5th Family)
Sauer! (Vocabula)
Alex Mode (Vinylfreunde / UTM-Family)
Sablin (very you Music)
Lennart Rast (Werktags)
Zander ed Wynn Prein (Werktags)
Dirtface (Digi:Tale / Neptun Records)
Lyn (Provokation E / UTM-Family)
Sashmung (stvw-booking)
Earl (Tectro Unity)
Disti(ll)ed (Klanglabor Süd-Ost)
Drum and Bass / Dubstep / House / Reggae / Dancehall / Hip Hop – Beach-Area:
Jampell feat. Miss Anne Katherine (Cilistic Inc.)
N!nze & Okaxy Syndicat (R&S Kollektiv / UTM-Family)
Xkap (Soul Box / Phalluskinder)
Acoustic Impulse (Stroga Resident / Wikkedsoundz)
Breather (SONiCFOOD)
Manny Fresh (SONiCFOOD / UTM-Family)
Batzen (Indutiarum Sound)
JokingJake (Indutiarum Sound)
Bleckburk (Rootwood / 5th Family)
Marcel Koar (5th Family)
Triple B Symphony
Ivory, Earl Great & Hanko (Roots and Culture)
Ric (SubSound Rockaz / UTM-Family / palmdubz)
Ginchilla (Freelance Crew)
Financial Rhymes (UTM-Family)
JackHammer (UTM-Family)
Visuals:
ImKinderzimmer (dffb-crew / UTM-Family)
Datum/Zeit:
Freitag, 05. Juli 2013
16:00 – 07:00 Uhr
Samstag, 06. Juli 2013
12:00 – 07:00 Uhr
Eintritt Abendkasse:
Kombiticket: 16,00 €
(nur Freitag: 9,00 € / nur Samstag: 10,00 €)
Vorverkauf: (nur Kombiticket)
http://urge-to-move-6.cortex-tickets.de/
15.05 – 22.05. 13,00 € EARLY EARLY EARLY BIRD (nur 50 Stück)
22.05 – 05.06. 14,00 € EARLY EARLY BIRD (nur 100 Stück)
05.06 – 19.06. 15,00 € EARLY BIRD (nur 100 Stück)
19.06 – 05.07. 16,00 € (normal)
Mainfloor: Drum and Bass
Sidefloor: Dubstep / Trap / Future Bass / Brostep / Moombahtone
Redfloor:House / Minimal / Techno / Electro
Sun Openair-Area: Drum and Bass / Dubstep / House / Reggae / Dancehall / Hip Hop
Aktivitäten:
Volleyballturnier, Tischtennisturnier, Torwand, Tischkicker, Boccia, Badminton, Brettspiele, Kartenspiele, Torwand, Frisbee, Dart, Schach, Ringwurfspiel, Wikingerschach, Beachtennis, Klettball, Mikado, Würfelspiele, Swoosh Ball
Essen: Gegrilltes, Salate, Eis, Knabber Gebäck
Shisha Lounge
Veranstaltungsort:
Club Puschkin Dresden
Leipziger Straße 12
01097 Dresden
Offizielle Website:
urge-to-move.de
Facebook:
https://www.facebook.com/URGE.TO.MOVE
Einlass ist ab 16 Jahren und bei Kontrolle nur mit gültigem
Lichtbildausweis.
WER NOCH KEINE 18 IST UND LÄNGER ALS 00:00 BLEIBEN MÖCHTE
läd sich bitte folgendes Formular herunter! Dieses muss dann
ausgefüllt und mitgebracht werden!
http://muttizettel.urge-to-move.de/
Powered By:
Relentless Energy Drink
http://www.relentlessenergy.com/
Laconic Records
http://www.laconic-records.de/
Flyerscout.de
http://www.flyerscout.de/
Fred Zigaretten
http://www.smokefred.com/
Have-a-break (vinyl store & record label)
www.h-a-b.org
drumandbass.de
http://drumandbass.de/
Wurzener
http://www.wurzener.de/
freshguide
http://www.freshguide.de/
Agentur Weise – Ihr Partner in Sachen Werbung, T-Shirtdruck, Tassendruck und Beschriftung in Dresden
http://www.agentur-weise.de